DLsite.com is proud to announce you that we are going to hold a booth at
[
Anime Expo 2018
] that takes place from July 5th to 8th 2018 at Los Angeles Convention Center, Los Angeles, USA.
DLsite.com's booth details at Anime Expo 2018
:
Booth:
DLsite.com & ImagineVR
Booth Number:
5023

As DLsite.com English, we will be selling some download cards of a few products selected from thousands of products available on DLsite.com English.
We will also have mimikaki (earpick) from the [
Nagomi's Earcleaning VR
] app, and Nijiyome-chan's eye mask from [
Nijiyome
], our sister website in Japanese.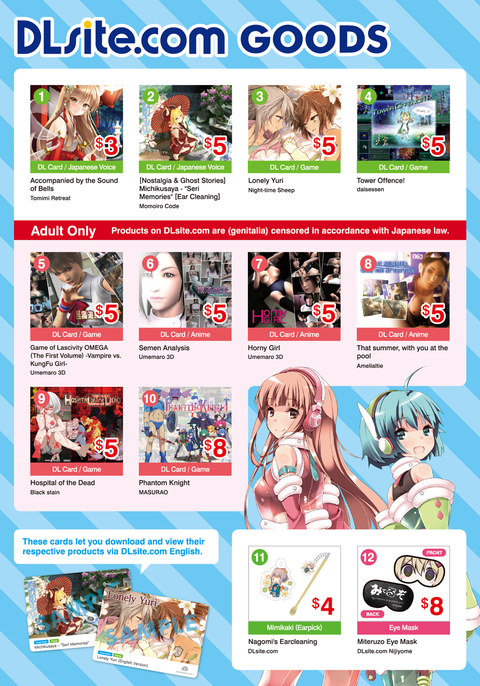 In addition to the booth, DLsite.com / ImagineVR will hold a 18+ panel at Otakon!
DLsite.com will give a talk about recent Hentai trends, introducing some of the latest and greatest depravity from Japan's indie scene!
DLsite.com / ImagineVR event information at Anime Expo 2018
:
Title:
The Latest Hentai Genre and Technology in Japan (R18)
Date:
Friday, July 6th 2018 at 9:00 PM
Place:
Workshop 1 / LACC 403 AB
Please drop by if you are planning to take a trip to Anime Expo 2018!